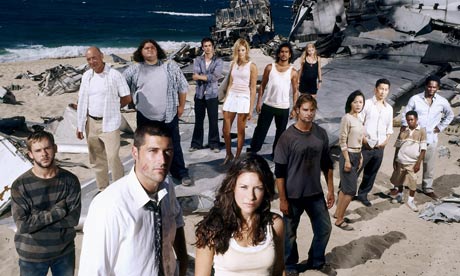 Early on, during yesterday's two-and-a-half-hour
Lost
finale, I realised I didn't want the answers to the show's many mysteries to be revealed because knowing would mean that the show would, after six years, finally be over. And I didn't want it to be over because I loved the intrigue, the mystery, the cast, the game of tease that the show's makers had been so expert at would be at an end.
Yet, by the end of
The
End
, I was so drained, emotionally speaking, having been put through the emotional ringer, that I wasn't sure how I felt come the closing credits. Sad? Elated? Distraught? Relieved? More than that, it took me a while to process what I had just seen meant in relation to the previous six years of
Lost
watching and theorizing.
Certainly, the series finale was emotionally satisfying — Sawyer and Juliet! Hooray! Daniel and Charlotte! Hooray! Hurley and Libby! Hooray! — and had me gasping with joy and awe and crying more times than I care to recall, mainly due to the wonderful relationship resolutions thrown up by the flash-sideways world and the sheer I-don't-have-any-idea-what-the-hell's-going-to-happen-next nature of the finale.
But how about intellectually satisfying? And narratively satisfying?
[Spoiler alert... read no further if you didn't see the finale.]
Did any one else feel slightly letdown that the flash-sideways world was some kind of limbo/purgatory/way station on the way to heaven for the passengers of flight Oceanic 815? Which presumably meant that everyone died when their plane crashed on the island way back in the pilot. So everything we watched on and off the island over the last six seasons — including the time travel, the polar bear, the smoke monster, Widmore's obsession with the island, the Dharma Initiative — was what, exactly? A dream? Their imaginings?
Jacob's
Ladder
Part
2
?
And therefore, by that reckoning, the island was just an island after all. (The writers hadn't been lying when they said it wasn't purgatory.)
I am, I must admit, still wrestling with the enormity of it all as I write this... It may take me a while.
Trust
Lost
to not be over when it's finally over.
[Deep breath... Long beat.]
Thanks guys, for six wonderful seasons. Can't wait to see what you'll cook up for us next...