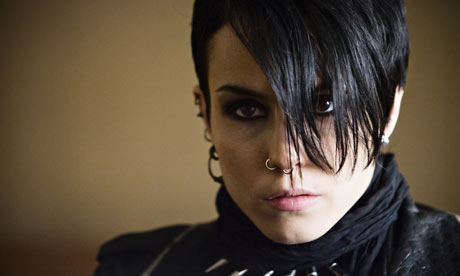 I haven't read the late Stieg Larsson's acclaimed Millennium trilogy, so I approached director Niels Arden Oplev's adaptation of Larsson's first book without any preconceptions, but with much excitement since so many friends had raved about the quality of the series. As a film,
The Girl With The Dragon Tattoo
is a marked success: complex, tense, extremely sexual, and often extremely violent — the book's Swedish title translates as Men Who Hate Women and that's probably a more accurate reflection of the themes and narratives going on here — its two and a half hour running time allowing for copious character development alongside the procedural. While the direction feels, at times, a little small screen, the sheer force of Noomi Rapace's performance as the — deep breathe — bisexual, tattooed, pierced and talented computer hacker Lisbeth Salander who joins forces with (unjustly) disgraced investigative journalist Blomkvist (Michael Nyqvist) to track down those responsible for the disappearance (and presumed murder) of the niece of a wealthy industrialist 40 years before, obliterates any concerns one might have had. Rapace's Lisbeth is, in short, a revelation, and the revenge she inflicts upon the predatory probation officer who takes over her case beats even the bicycle pump moment in
The Horseman
in terms of both squirm factor and sheer ruthlessness. I'm reliably informed that the film touches upon events from book two and the ending does indeed pave the way for the sequel. Fortunately we don't have to wait long, since books two and three have already been filmed and are being released in the UK later this year...