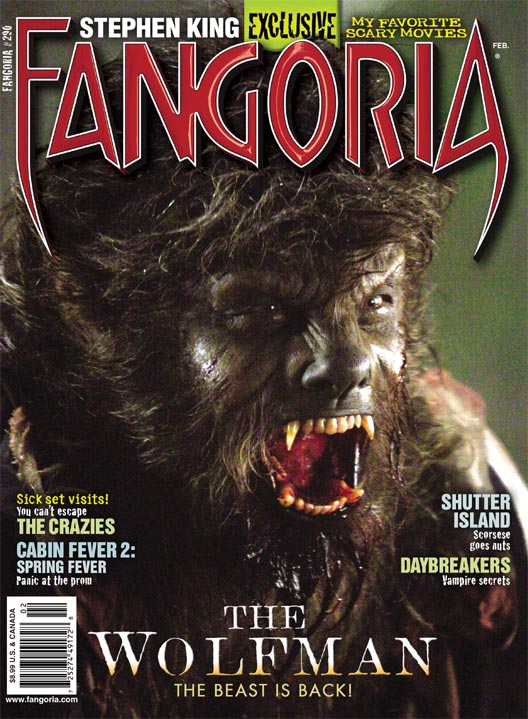 For more than 30 years Fangoria has been the number one name in reporting on the horror genre. No more. Apparently.
I say apparently, because no one seems to know for sure.
Articles
started appearing on the net yesterday, discussing its demise,
articles
which seemed to confirm what many of us who wrote for the magazine had been feeling for some time — that the magazine was in trouble and the end was nigh. The
Fangoria
website had been down for more than a week which wasn't a good sign. Added to that, there was the fact that some contributors haven't been paid for months...
It's such a shame. As a schoolboy, I remember reading the first few issues in a newsagents near where I lived, not believing the bloody nature of the photos. I started buying it regularly from around issue 16, and when I started writing for a living, it was one of three magazines I wanted to write for. (Another was
Premiere
, which I did, and that sadly has also gone the way of the dodo.)
My first piece for
Fangoria
was on a movie called
The Refrigerator
. I wrote about
Dust Devil
, Branagh's
Frankenstein
,
28 Weeks Later
,
Sleepy Hollow
, and
Blade 2
among many others. I had several cover stories and even appeared on the cover once, much to my surprise.
Fangoria
never paid well. I remember being shocked at how little their rate was when I received my first cheque but I, like many others down the years, did it because we loved the magazine, and because editor Tony Timpone and managing editor Michael Gingold are two very nice guys. I had written very little for the magazine in recent times, and once the cheques started being late, I was less and less inclined to.
I received the February 2010 issue in the post last week. It has my cover story on
The Wolfman
. Will that be the last ever issue of
Fangoria
? Who knows. I sincerely hope not...