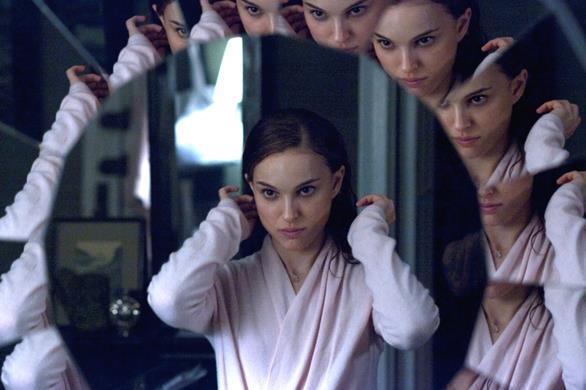 I won't be in Venice until the weekend, but Darren Aronofsky's
Black Swan
press screened this morning, and the general consensus appears to be pretty positive.
"Resembling a
Red
Shoes
on acid,
Black
Swan
takes the idea of giving one's all for art to a morbid extreme,"
writes
Indiewire's
Todd McCarthy. "Applying the gritty handheld technique he successfully employed in the working class environs of
The
Wrestler
to the rarefied domain of classical ballet, Darren Aronofsky swooningly explores the high tension neuroses and sexual psychodrama of a ballerina on the brink of simultaneous triumph and breakdown. With Natalie Portman, in the demanding leading role, equaling her director in unquestioned commitment, the central issue for the viewer is how far one is willing to follow the film down the road to oblivion for art's sake."
"A wicked, sexy and ultimately devastating study of a young dancer's all-consuming ambition,
Black
Swan
serves as a fascinating complement to Darren Aronofsky's
The
Wrestler
, trading the grungy world of a broken-down fighter for the more upscale but no less brutal sphere of professional ballet," writes
Variety
. "Centerstage stands Natalie Portman, whose courageous turn lays bare the myriad insecurities genuinely dedicated performers face when testing their limits, revealing shades of the actress never before seen on film. As with
The
Wrestler
, Fox Searchlight faces formidable marketing challenges, likely exploiting the psychosexual thriller's racier elements to eke out a similarly modest score."
"Already back on track after Venice Golden Lion winner
The Wrestler
, Darren Aronofsky soars to new heights with
Black Swan
, an enthralling drama set in the competitive world of ballet," writes
ScreenDaily's
Mike Goodridge. "Alternately disturbing and exhilarating, this dark study of a mentally fragile performer derailed by her obsession with perfection is one of the most exciting films to come out of the Hollywood system this year. Indeed it's the perfect film to open the autumn season with its gala at Venice tonight, a bold display of cinematic fireworks that will leave audiences breathless."