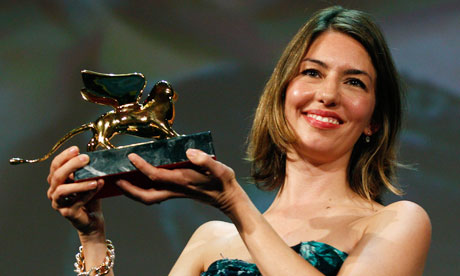 Sofia Coppola's
Somewhere
was the surprise winner of the Golden Lion in Venice tonight. I say "surprise" because the film was greeted with somewhat mixed reviews by critics last weekend, but, hey, what do they know.
Another surprise winner was Alex de la Iglesia, picking up the award for Best Screenplay and the Silver Lion for Best Director for
Balada Triste de Trompeta
. I was a fan of the film, but I certainly felt like I was in a minority in that regard on the Lido, and so I definitely consider that a turn up for the books, and a pleasant one, too.
In terms of the acting awards, Vincent Gallo had been many people's favourite to win for Best Actor for
Essential Killing
but the other bookies' pick, Natalie Portman for
Black Swan
, walked away empty-handed, the jury going instead for Ariane Labed in
Attenberg
, another film I liked very much, and one I will get around to reviewing soon.
The results can be found in full after the jump.
Golden Lion for Best Film
Somewhere by Sofia Coppola

Silver Lion for Best Director
Alex de la Iglesia for A Sad Trumpet Ballad
Special Jury Prize
Essential Killing by Jerzy Skolimowski

Special Lion for Work Achievement
Monte Hellman

Coppa Volpi for Best Actor
Vincent Gallo for Essential Killing
Coppa Volpi for Best Actress
Ariane Labed for Attenberg
Marcello Mastroianni award (for young actor/actress)
Mila Kunis for Black Swan

Osella for Best Script
Alex de la Iglesia for A Sad Trumpet Ballad

Osella for Best Technical Contribution
Mikhail Krichman (cinematographer) for Silent Souls

Luigi De Laurentis Award - First film
Majority by Seren Yüce

Orizzonti (Horizons) Prize
Verano de Goliat by Nicolàs Pereda

Special Orizzonti Jury Prize
The Forgotten Space by Noel Burch, Allan Sekula

Orizzonti Award - Short Film
Coming Attractions by Peter Tscherkassky

Orizzonti Award - Medium-Lenght Film
Tse (Out) by Roee Rosen

Special Mention
Jean Gentil by Israel Cardenas, Amelia Laura Guzman

Venice Short Film Nominee for the European Film Awards
The External World by David O'Reilly

FIPRESCI Award
Best Film Venezia 67: Silent Souls by Aleksei Fedorchenko
Best Film Orizzonti and International Critics Week: El Sicario - Room 164by Gianfranco Rosi